Hamilton Medical brings you the latest news in mechanical ventilation. If you can't view this email correctly, please

click here

.
Dear Caroline Huber-Brown,
With today's advanced technology, it is becoming increasingly possible to customize settings to protect the lung of mechanically ventilated patients. Specific parameters serve to indicate how great the risk of ventilator-induced lung injuries may be and should ideally be kept within ranges considered safe for lung-protective ventilation. Our clinical discussion looks at a new study investigating the amount of driving pressure and mechanical power delivered by an advanced ventilation mode.
As the novel coronavirus continues to dominate world headlines, the safe use of ventilators on highly infectious patients is a hot topic. This issue's Bedside tip is therefore somewhat different: instead of the usual format, you will find information about measures you can take to minimize the risk of cross-contamination.
We are delighted to welcome all our readers back for the first issue of our newsletter in 2020!
With best regards,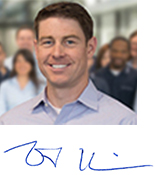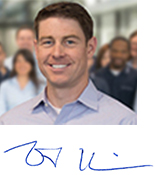 Bob Hamilton
CEO
Hamilton Medical, Inc.
  Individualized ventilation for lung protection
The application of general rules and guidelines for certain ventilator settings such as tidal volume may not be of benefit to every patient. A more individualized approach to treating the diseased lung may be safer for the lung and result in better outcomes. Today's advanced technology supports this approach by allowing the clinician to set targets, then adjusting ventilation settings according to each individual patient's condition and lung characteristics. A recent publication presents results from an observational study on adult, passive patients, who met the criteria for a single-lung condition. This group of 255 patients was ventilated with the advanced ventilation mode, INTELLiVENT®-ASV®. The objective was to investigate the driving pressure and mechanical power delivered by INTELLiVENT-ASV, and assess whether they could be considered lung-protective.
  Bedside tip: Use of ventilators on highly infectious patients
With the rapid spread of the novel coronavirus, a frequently asked question is how to ensure the safe use of ventilators on patients who may be highly infectious. Our new Knowledge Base article gives you an overview of possible measures that can be taken to ensure protection against internal contamination of the ventilator, as well as protection of patients and clinical staff. Follow the link to see the full article and download the information as a PDF.
  Fact of the day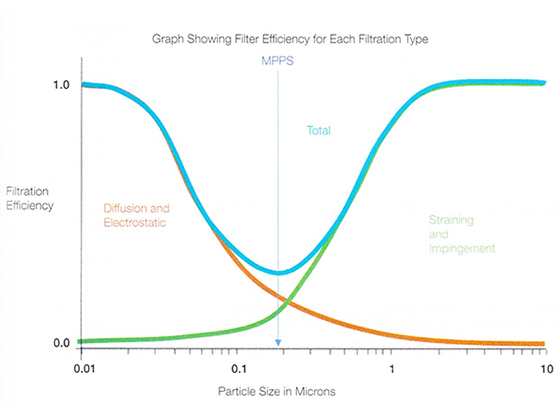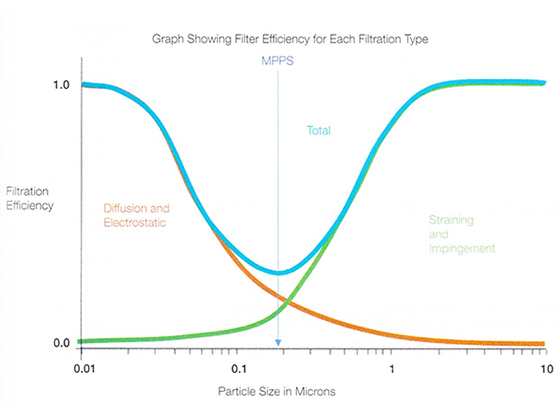 Image courtesy of GVS Filter Technology
When talking about the efficiency of HEPA filters, the often-cited size of 0.3 micrometers can be misleading. There is a widespread belief that HEPA filters are able to catch almost all particles that size or larger, but not smaller particulate matter. In fact, HEPA filters are highly efficient in catching particles even as small as 0.1 right down to 0.001 micrometers. Particles in the range of 0.3 micrometers are the most difficult for HEPA filters to capture – for that reason this size is often used to measure a filter's efficiency.
Reference: Perry J.L., Agui J.H., Vijayakumar  R. Submicron and Nanoparticulate Matter Removal by HEPA-Rated Media Filters and Packed Beds of Granular Materials. NASA/TM—2016–218224
  
Product insights: Did you know...
.... that High Efficiency Particulate Air (HEPA) filters from Hamilton Medical provide an extremely high level of filtration even for the most penetrating particle size? Wtih tested efficiency rates of at least  99.97% for particles sized 0.3 micrometers, the filters meet the U.S. Department of Energy standard, which requires a "minimum efficiency of 99.97% when tested with an aerosol of 0.3 micrometer diameter".*
* DOE-STD-3020-2015: Specification for HEPA Filters Used by DOE Contractors 
  
Meet us here
Do you have questions or need information? The best way is to ask our staff personally. You can find Hamilton Medical at these upcoming events in 2020.
Disclaimer: The content of this newsletter is for informational purposes only and is not intended to be a substitute for professional training or for standard treatment guidelines in your facility. Any recommendations made in this newsletter with respect to clinical practice or the use of specific products, technology or therapies represent the personal opinion of the author only, and may not be considered as official recommendations made by Hamilton Medical. Hamilton Medical provides no warranty with respect to the information contained in this newsletter and reliance on any part of this information is solely at your own risk.
Hamilton Medical Inc.
4655 Aircenter Circle
Reno, NV 89502
USA
Phone: 800-426-6331
Fax: 775-856-5621
This email was sent to chuber-brown@hamilton-medical.com. You are receiving this email because you subscribed for the Intelligent Ventilation Newsletter.