Hamilton Medical News. If the contents do not display properly, please click

here

.
Dear Caroline Huber-Brown,
Due to the rapid spread of the coronavirus, the demands on healthcare providers are increasing dramatically. We are aware of the huge challenges you are facing, and draw huge inspiration from your commitment and heroic efforts to care for your patients in this battle against COVID-19.
At Hamilton Medical, we are ramping up production and have implemented a range of measures to help us provide you with the equipment you need. With this unprecedented global demand however, the volume of orders and requests we are receiving is currently far in excess of what we are able to produce. For this reason, it will take some time until the effect of our efforts really becomes visible.
We wish you all the best and trust you will stay safe and healthy in the weeks and months to come. Below you will find some useful information on various topics relating to the coronavirus.
With best regards,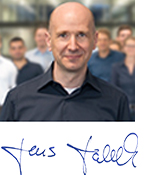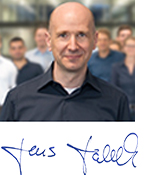 Jens Hallek
CEO
Hamilton Medical AG
The number of enquiries we are receiving about products, hygiene and ventilation is growing exponentially. Questions include:
How do I set ASV correctly for a (COVID-19) ARDS patient?
Can I connect more than one patient to a ventilator?
How many ventilators can Hamilton Medical produce?
On our COVID-19 page you can find the answers to these and many other questions. This page will be updated continually with further content and information. Should you have additional questions, please send them to us via your Hamilton Medical Account Manager or authorized representative and we will answer as quickly as possible.
Breathing circuit sets from Hamilton Medical may be used for up to 28 days before replacement. All the materials and connections of these sets have been successfully tested for permanent use over a period of 4 weeks, and are able to withstand continuous ventilation under the worst case conditions for this duration. However, it is important to note that breathing circuit sets must be replaced according to the applicable hospital hygiene standards, as well as local laws and regulations.
High Efficiency Particulate Air (HEPA) filters from Hamilton Medical provide an extremely high level of filtration even for the most penetrating particle size. With tested efficiency rates of at least 99.97% for particles sized 0.3 micrometers, the filters meet the minimum efficiency requirements of both the U.S. Department of Energy standard and the European standard EN 1822. Follow the link below to find out more about how HEPA filters work.
In the current situation, our highest priority is that all our ventilators can be used on the patients who require mechanical ventilation. This means ensuring they are equipped with the consumables needed for operation. We are currently receiving orders for huge quantities, however panic buying and hoarding of consumables represents the biggest risk for patients the world over. We ask that all our customers show solidarity with fellow hospitals in their own and other countries, by refraining from hoarding and limiting orders to sustainable quantities.
The huge volume of incoming orders represents a significant challenge to our manufacturing and supply capacities. Even the smallest detail can impact greatly on processes and delivery times. For this reason, we are now only supplying hard copies of the Operator's Manual in the local language with our ventilators, rather than the standard language kits. A range of other documentation, such as Quick Guides, can be downloaded from our website.
As the coronavirus (COVID-19) continues to spread around the world, questions are being raised about the safe use of ventilators on patients who may be highly infectious. In our Knowledge Base article, we give you an overview of possible measures that can be taken to ensure protection against internal contamination of the ventilator, as well as protection of patients and clinical staff. Follow the links below to see the full article or download the PDF.
We now offer a handy Quick Guide for your HAMILTON-C1 or HAMILTON-MR1 ventilator! Intended as a supplement to the relevant operator's manual, these easy-to-use guides provide you with information at a glance and are a practical reference for the ventilation of adult and pediatric patients. They offer instructions and tips about device components, settings, and calibration, as well as ventilating and monitoring a patient. Log in to MyHamilton or create a MyHamilton account to download your Quick Guide now!
At this stage, the events listed in our International Events Calendar are still scheduled to go ahead. However, this information is subject to change at short notice.
Disclaimer:While the information contained in this newsletter is believed to be accurate, it does not substitute an opinion, assessment or instructions provided by a trained healthcare professional. If you use any of this information without the express consent of Hamilton Medical, please be aware that you are possibly in violation of the law, including but not limited to infringement on copyright, trade secret agreements, trademark, privacy acts, and others. 

For all proprietary trademarks (®) and third-party trademarks (§) used by Hamilton Medical AG see 

www.hamilton-medical.com/trademarks

.
Hamilton Medical AG 
Via Crusch 8
7402 Bonaduz
Switzerland
+41 58 610 10 20
This email was sent to chuber-brown@hamilton-medical.com.
You are receiving this email because you subscribed for the Intelligent Ventilation Newsletter.  Unsubscribe or update your profile.