Hamilton Medical brings you the latest news in mechanical ventilation. If you can't view this email correctly, please

click here

.
Dear Caroline Huber-Brown,
As the current pandemic continues to affect every country around the globe in varying degrees, concerns about spreading COVID-19 within the hospital environment are at the forefront of healthcare workers' minds. The use of filters on breathing circuits is therefore a subject of much discussion. In this issue of our Intelligent Ventilation Newsletter, we look at the issue of filter occlusion and ways of recognizing expiratory filter resistance. You can also find a different kind of ventilation quiz to solve - if you're a crossword enthusiast, this one is for you!
We hope you enjoy reading it and continue to stay safe.
With best regards,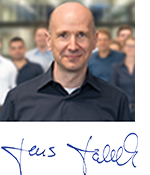 Jens Hallek
CEO
Hamilton Medical AG
  Expiratory filter resistance 
In these days of COVID-19, hospitals are experiencing increased volumes of mechanically ventilated patients. Additionally, institutions are struggling with equipment and supply shortages. Concerns about spreading COVID-19 between patients and healthcare workers have prompted increased consideration of controlling the exhaled gas from the ventilator, by utilizing filters in the expiratory limb of the ventilator circuit. Although there is conflicting evidence about the effect of filters in reducing the spread of infection, it would seem prudent to use a filter in a highly contagious environment. During the first outbreak of SARS in 2003, a recommendation was made by the Emergency Care Research Institute that breathing-circuit filters be incorporated in the exhalation limb of any ventilator used on an infected patient. Subsequent recommendations issued by the ESICM in 2010 for ICU triage for use during an influenza epidemic or mass disaster include the use of a 'high‐quality bacterial/viral filter' on the expiratory port of ventilators. However, the use of filters may cause an increase in resistance that can prevent adequate ventilation of the patient and result in adverse events.
  Bedside tip: How to recognize expiratory filter resistance
Expiratory filters can become clogged with humidity and particles from nebulized medications trapped in the filter media. This results in increased resistance in the expiratory limb of the circuit and can affect the function of the ventilator. It is important to recognize the development of resistance over time and act accordingly. In this bedside tip, we look at different ways of identifying an increase in expiratory filter resistance.
  
Test your IntelliVence
Every waveform has a story to tell. And we love working out what it is. But sometimes it's good to mix things up a little. So instead of a waveform, we've decided to bring you a different kind of Test your IntelliVence quiz in this newsletter. It's our first crossword puzzle with a random mix of ventilation questions. You can solve it online or download the pdf-file and put pen to paper. Happy puzzling!
  
Product insights: Did you know...
….that you can plot expiratory flow and RCexp on all Hamilton Medical ventilators* to show the increase in filter resistance over time. Simply configure the layout to show trend data for these two parameters over the timeframe of your choice (1, 6, 12, 24, or 72** hours). You can freeze the trend graph at any time to examine the data more closely.
*Loops/trends feature is standard on HAMILTON-G5/S1 and HAMILTON-C3/C6; optional on HAMILTON-C1/T1/MR1
**Not available in all markets
Not all ventilators or features available in all markets
  
Meet us here
Hamilton Medical is supporting the following upcoming events. These will be held in a virtual format with all presentations in English.
nternational Symposium on intensive Care and Emergency Medicine
15 - 18 September, 2020
Virtual format
SSICM Annual General Meeting 2020
Swiss Society of Intensive Care Medicine
17 - 18 September, 2020
Virtual format, free registration
Disclaimer: The content of this newsletter is for informational purposes only and is not intended to be a substitute for professional training or for standard treatment guidelines in your facility. Any recommendations made in this newsletter with respect to clinical practice or the use of specific products, technology or therapies represent the personal opinion of the author only, and may not be considered as official recommendations made by Hamilton Medical. Hamilton Medical provides no warranty with respect to the information contained in this newsletter and reliance on any part of this information is solely at your own risk.
Hamilton Medical AG 
Via Crusch 8
7402 Bonaduz
Switzerland
+41 58 610 10 20
This email was sent to chuber-brown@hamilton-medical.com.
You are receiving this email because you subscribed for the Intelligent Ventilation Newsletter.  Unsubscribe or update your profile.